Brice Goglin
Version française et vulgarisée de cette page

Contact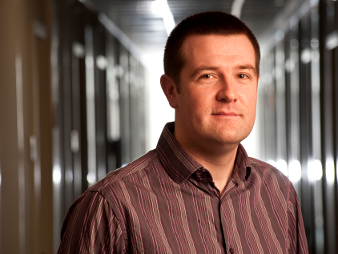 Brice Goglin
Inria researcher.
TADaaM Inria team (previously Runtime)
Inria Bordeaux - Sud-Ouest Research Centre
LaBRI (Laboratoire Bordelais de Recherche en Informatique, CNRS research unit UMR 5800, Satanas Team)
Université Bordeaux 1
Post address:
Inria Bordeaux
200 avenue de la vieille tour
33405 Talence cedex
France
Phone: +33 (0)5 24 57 40 91
Fax: +33 (0)5 24 57 40 56
News
Research
I am working in the TADaaM Inria team (previously Runtime Inria Team-Project). My primary research interests are:
Memory management and migration for OpenMP threads scheduling over hierarchical architectures.
More details here.
My Habilitation dissertation (in French), my Ph.D dissertation (in French), and the corresponding outdated research activities.
Selected Publications
Brice Goglin and Stéphanie Moreaud. KNEM: a Generic and Scalable Kernel-Assisted Intra-node MPI Communication Framework. Journal of Parallel and Distributed Computing (JPDC), 73(2):176-188, February 2013.  Bibtex  Details  DOI
Brice Goglin. High-Performance Message Passing over generic Ethernet Hardware with Open-MX. Elsevier Journal of Parallel Computing (PARCO), 37(2):85-100, February 2011.  Bibtex  Details  DOI
Stéphanie Moreaud, Brice Goglin, and Raymond Namyst. Adaptive MPI Multirail Tuning for Non-Uniform Input/Output Access. In Edgar Gabriel Rainer Keller and Jack Dongarra, editors, Recent Advances in the Message Passing Interface. The 17th European MPI User's Group Meeting (EuroMPI 2010), volume 6305 of Lecture Notes in Computer Science, pages 239-248, Stuttgart, Germany, September 2010. Springer-Verlag. Best paper award.  Bibtex  Details  DOI
François Broquedis, Nathalie Furmento, Brice Goglin, Pierre-André Wacrenier, and Raymond Namyst. ForestGOMP: an efficient OpenMP environment for NUMA architectures. International Journal on Parallel Programming, Special Issue on OpenMP; Guest Editors: Matthias S. Müller and Eduard Ayguadé, 38(5):418-439, 2010.  Bibtex  Details  DOI
Full Publications List and the associated BibTex entries (or view it on Google Scholar).
Collaborations
SEHLOC STIC-AmSud project with UNSL (Argentina) and UdelaR (Uruguay).
Common Communication Interface with Oak Ridge National Lab (USA).
ANR Infra SONGS with many French partners.
Network Locality (netloc) with Cisco and University of Wisconsin - La Crosse.
and several other less official collaborations (Open MPI, etc.).
Students
Nicolas Denoyelle (Master, Engineer and PhD, 2014-2018)
Guillaume Beauchamp (Undergraduate, 2015)
Bertrand Putigny (PhD, 2010-2014)
Clément Dussieux (ENSEIRB engineering school, 2014)
Benoit Ruelle (ENSEIRB engineering school, 2013)
Antoine Rougier (Master, 2012)
Stéphanie Moreaud (Master and PhD, 2007-2011)
Romain Perier (Master, 2010)
François Broquedis (Master, 2007)
Responsibilities
Among others:
Teaching
Current and past Teaching activities (in French).
Personal
Public PGP key: 0x235ABD3B.
---
Updated on 2016/04/26.